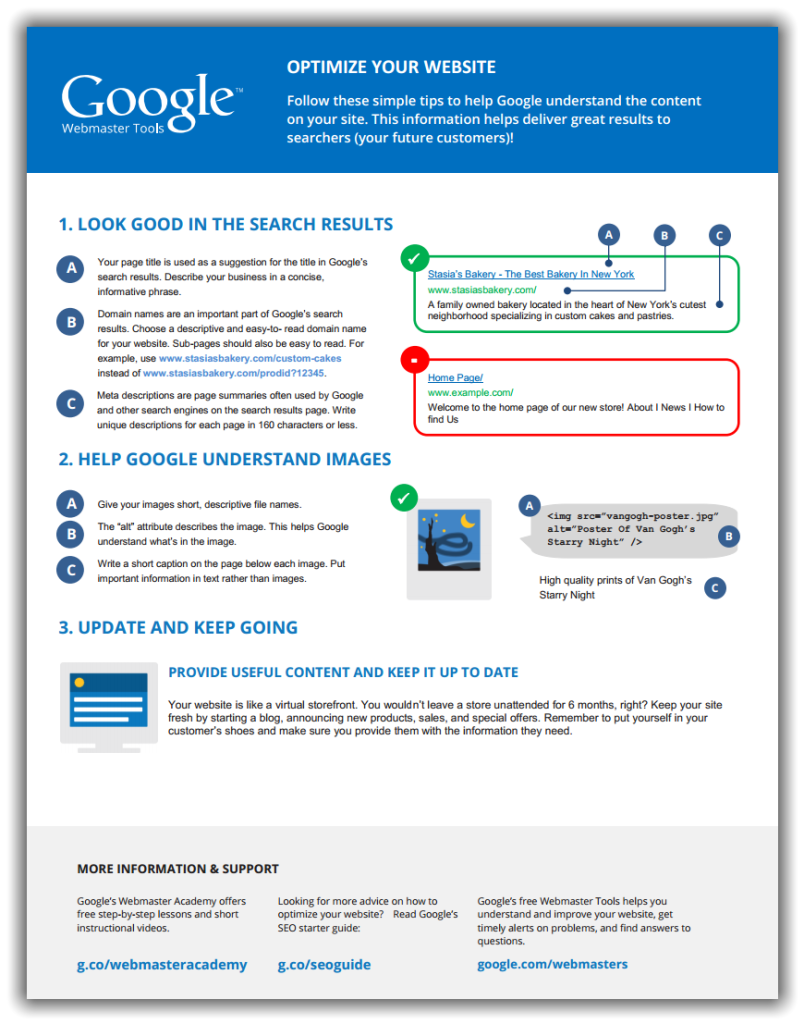 Earlier this week Google released a free, helpful, one-page SEO guide for those of you new to SEO.  It covers the basics and although some of the tips  are quite simple and elemental, these tips can often go a long way.
Google won't give an exact A to Z, step by step list of how to rank #1 on their search engine but from time to time they do provide us with some information to ensure that websites are being setup properly in regards to SEO.
In a nut shell the guide covers the following:
Page Title:  At or under 70 characters.  I prefer using vertical slashes to separate sentences – for example:  Web Services CT | Connecticut SEO Search Engine Optimization Service
Domain name:  Eliminate mysite.com/54321 URLs and use something like mysite.com/services
Meta Descriptions:  Describe your site, include terms that people would use to find a site like yours all under 160 characters.
Image File Name:  When uploading an image to your site use image-description.jpg rather than picture123.jpg
Image Alt Tag:  The Alt Tag plays a role in helping Google understand what the image is.  Describe the image in this tag.
Image Caption:  Jot down a short caption below the image. Remember to put info outside of the image in text form rather than within the image.
Fresh Content:  Keep your site fresh, relevant and updated.
The guide can be downloaded at the following:
While we're on the topic of helpful guides I thought I should include a few other links with some great SEO Tips and Tools:
The above links offer plenty of info to get your SEO campaign going – enjoy!
—–
Tim Dugan  |  WebServicesCT.com