A new kind of advertising seems to be on the way from Google: ads specially designed for home services like plumbers, locksmiths, and house cleaners. This new feature is more than just a new ad that will show up in Google search results; it includes screening of service professionals, the ability to request custom quotes, and the option to leave reviews. At the moment, Google is testing the new feature within the San Francisco Bay Area. Once it rolls out, it may well compete with services such as Yelp and Angie's List. Unfortunately we don't yet know when (or if) to expect Home Service Ads to be available globally. However, we do know a lot about how it works so far.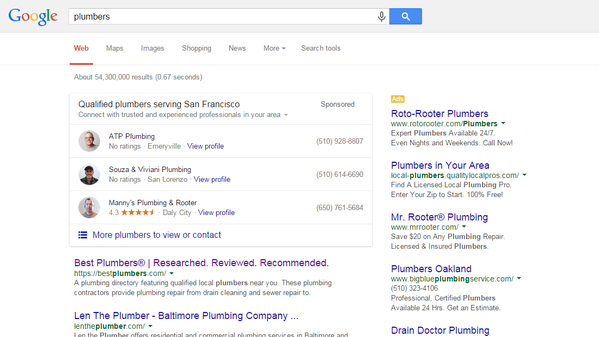 A screenshot published by Pete Meyers shows that the new feature, which appears when Google thinks a user is trying to look up a local professional service, displays 3 listings at the top of the search results. If you want to see more, you can click on "More to view or contact" to view a whole collection of services. These listings each include a company name, photo, phone number, average rating, and profile. There is also a link to view a more detailed profile. This brief collection of information is helpful if you're looking to get in touch with a professional service quickly.
However, it's the other features within Google Home Service Ads that set it apart. First, Google is pre-qualifying all professionals that it includes within its ads. An explanation posted by Google says, "All professionals must pass criminal background checks, maintain any applicable trade licenses and insurance, and have strong track records." A strong track record seems to mean positive reviews from customers and mystery shoppers.  This certification process should help users to trust the promoted services, which is essential for a professional who will come to your home.
Google Home Service Ads also includes options to facilitate follow-up with its featured professionals. You could simply visit the professional's website or call their phone number, clearly displayed within the ad listing. Google also enables you to send requests to professionals from right within the search engine. First, you fill out a simple form with your name, contact information, and a description of the job you need completed. Then you select 1-3 professionals from the search results. Google will send your request to the professionals you requested, and those professionals will then contact you with quotes.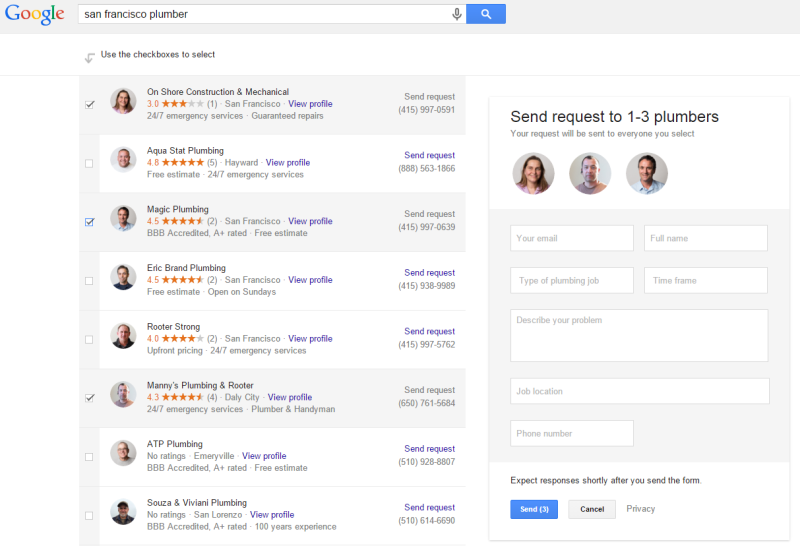 Once you have hired a professional from Google Home Service Ads, you'll be able to review them on Google. Your rating and review will show up on the company's Google profile. Companies that get multiple negative reviews may be dropped from the listings.
We hope that Google Home Service Ads will be available outside of San Francisco soon. While other websites, such as Yelp and Angie's List, are well-established and popular, Google may provide strong competition. With the ads' smooth integration into normal search results and the ability to easily request quotes, Google Home Service Ads may soon be a popular service.