If you're anything like me your consumer decision making process goes something like this:
Identify and recognize the need of the product or service.
Go to

G

o

o

g

l

e

, start researching that product/service and visiting the website affiliated with that particular product /service.
Go to

G

o

o

g

l

e

, and Read Reviews/Feedback of that product/service – as well as researching alternatives.
Finally, decide and move forward with the purchase.
I am trying to emphasize the fact that Google (as well as other Search Engines) and Online Reviews play a major, key role in our consumer process now more than ever.  Recent research has determined that:

…79% Of Consumers Trust Online Reviews As Much As Personal Recommendations…

That is a pretty substantial number.  According to
BrightLocal
and
SearchEngineLand
, research also shows that they (the consumer) are forming opinions faster and needing to read fewer reviews before they trust (or don't trust) a local business.  Point being, reviews could be a the deciding factor when a consumer decides to use your product/service.
What You Should Do:
Claim your Local Profiles:  Verify you're the business owner of that listing and upload all of your pertinent business information so consumers can find you and review you.
Encourage Reviews:  Make it known that you would like a review AND that it is easy to provide a review – more info here.

Manage Reviews:  If a negative review is uploaded be sure to respond promptly in a professional manner and act appropriately.  Consider PR Ethics when you're repsonding and if you're unsure if your response may be too harsh or reflect poorly on your business then have another set of eyes check it out before posting it live.  Google has also provided some info on how to repsond:  How to Respond to Reviews
Many websites also allow the customer to leave a rating to provide more information on the quality of the product or service.  The screenshot below shows an example of what your business could look in the SERPs – in this case I am looking for a Pizza Restaurant in Manchester, CT.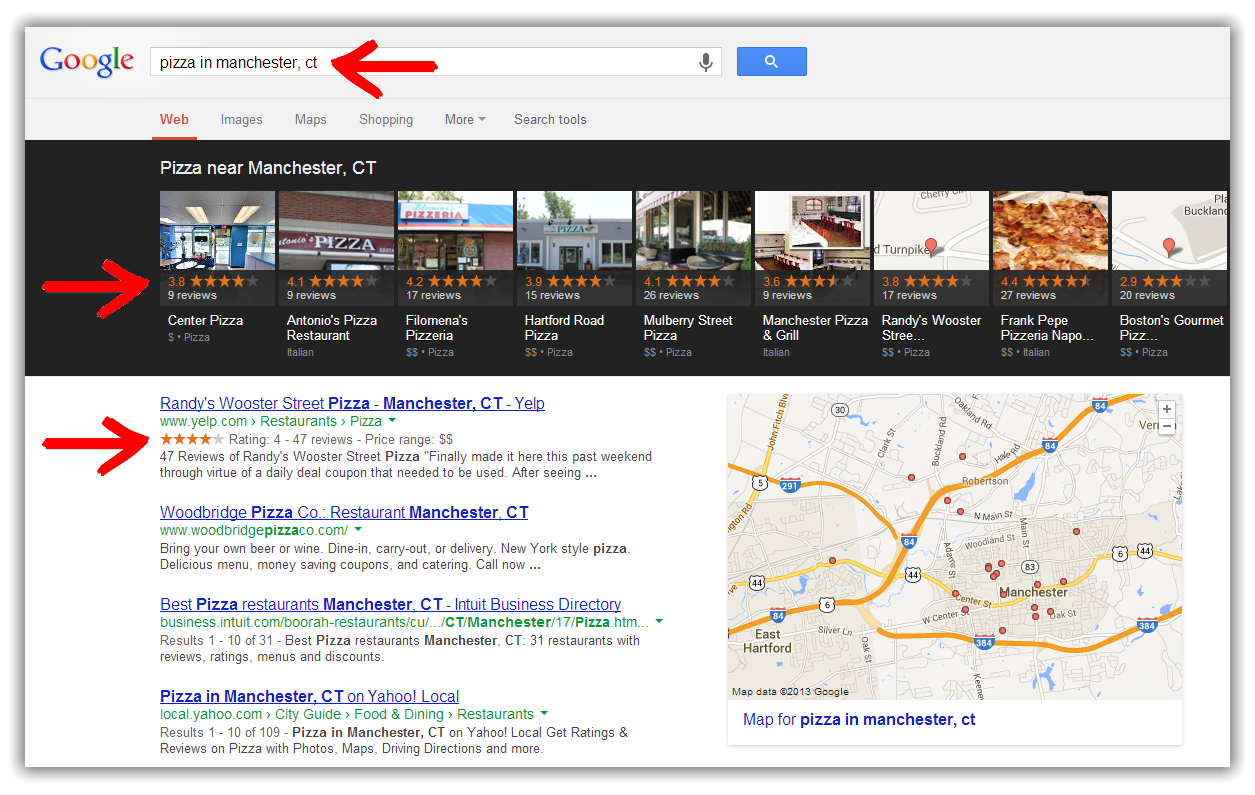 As you can see the star ratings are coming from both other directories (in this case, Yelp) and Google (at the  top of the SERP) – they not only help your business listing 'pop' by showing a star rating but also can provide honest opinions that others have left – thus helping a potential buyer/customer pull the trigger on your business.
Please comment below,  feedback appreciated! ↓↓ Thank You
—–
Tim Dugan  |  WebServicesCT.com