The introduction of local search listings was a huge change to Google's search algorithm and finally gave small, local businesses the ability to beat out their huge, multi-national competitors. It was one of a few changes that put the emphasis of the search results on a searcher's local area, making the results more functional for those searchers and boosted the rankings of local businesses. SEO professionals are always looking out for changes to how this mechanism works, so they can help their clients improve their rankings, and a big change was just made: a new ranking signal was introduced.
Maybe it's not entirely new—we already knew that your reputation could seriously affect your search rankings. The emphasis on prominence, however, is new and it is going to change how we optimize for local search results. In conjunction with relevance and distance (the two other factors that Google uses to largely determine who is going to rank where in the local search results), prominence demands a certain level of brand awareness. That means that if people have heard of you, more people are going to hear of you, because you will be higher in local search results.
The Factors
Relevance is obvious—if you are not relevant to the search, your business is not going to be listed along with those results that are relevant. Adding as much information as possible to your listing is the best way to make sure that you are seen as relevant when you actually are relevant. Distance is something that you cannot control, unless you have multiple locations. All it does is measure your listed location and its approximate distance from the searcher. Businesses that are, for example, within twenty miles of the searcher are going to get a much better ranking than businesses that are fifty miles away.
But exactly does prominence mean? According to Google's own page about local search listings, prominence "refers to how well-known a business is." For example, some businesses might be very well known offline but have virtually no online presence. If they have prominence offline, Google would now try to quantify this prominence and provide their listings with a higher slot. For example, museums, landmarks, and well-known local stores would be given a boost in their prominence rankings, because though they might not be the most aggressive search engine optimizers online, they are well-known in the community and are therefore valuable search results.
How does Google quantify prominence? From information about that business found all around the web. This means links to that business's website, articles written about it, directories in which it is listed. It will review these mentions, score them, and given a higher search ranking to businesses that are more prominent. Keep in mind that the number of reviews a business has (and how many of those ratings are positive), will also signal that a business is prominent.
Improve Local SEO Rankings from Google: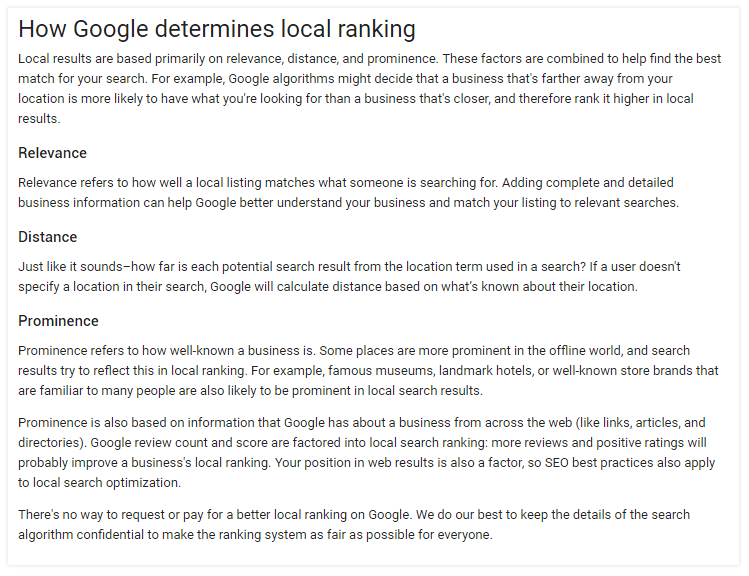 The Evolution of Local Search
Local search has its inception in 2005. This is when Google Maps was introduced and people began to be able to find local businesses online, simply by looking at the map. Thought businesses could not create their own listings until 2007, the ability to use an interactive map, on the internet was revolutionary.
In 2009, the three-pack became a ten-pack. Instead of displaying only three local businesses at the top of search results, Google began to display seven. In 2010, the business center became Google Place Pages. In 2012, a massive update arrived, including the merging of Google + Business and Google + Local. In 2014, Pigeon, one of the biggest updates to the local search algorithm came, along with the creation of Google My Business. It was this final update that really changed how most local businesses rank themselves online, simply because it started to put an emphasis on the distance a searcher was from the businesses being listed. It also gave a boost to directory listings. So, for example, if you had a listing on Yelp, that Yelp listing might be above the link to your actual website in the same set of results.
Some industries profited from this change. Hospitality, education, and food were all improved because of Pigeon. And this makes sense. When people are looking for hospitality, education, and food, they probably want to find it as close to their current location as possible. There were other industries that did not benefit. For example, real estate took a hit. As did the movie industry, and even insurance and jobs.
In 2014, the three most important aspects of a webpage were having the city and state in the title of the landing page, the authority of the website's domain, and the page authority of the landing page URL. Today, the three most important ranking factors for local businesses are the authority of the domain, the quality of inbound links (this is where prominence factors in), and having the city and state in the landing page title. In order to rank well, you have to be talked about online. And not just that—you have to have positive things said about you online. This is an instance where "any press is good press" might not be true.
Why were these changes made? Largely because how people search was beginning to change. More and more people were searching from mobile devices. They were searching on the go, wanting real time results that were immediately relevant. For example, if they were looking for somewhere to eat, they wanted to know where they could eat in their vicinity—they didn't just want a list of restaurants in their city, but a list of which restaurants were immediately available.
According to a study done by Google about mobile searchers, 80% of them use their search engines to look for information about their local area. When searchers do look for local businesses, more of these searches result in purchases. About a third of searchers would prefer to buy something from a physical store, if they are close to that store, than to buy something online. More than half of all users look for local information at least once a week.
This is why mobile search has so heavily affected local search and why the inclusion of prominence as a ranking factor is becoming such a big deal.
What Do I Need to Do?
If you already have a profile of strong, inbound links, you likely do not have to do very much to keep your local listing in its spot in the local search pack. If you want to improve your ranking, now is the time to pounce on prominence. That means making sure that people are talking about your business. If they are talking about your business offline, get those same people to talk about it online, whether they write blog posts, leave you reviews (preferably on your business's Google listing), post news stories about you, etc.
Local SEO is only going to continue to change and shift. Yelp and Amazon are teaming up to make sure that's the case. Monitor your listing and make sure that you are optimizing for the right factors.