Google has done it again.  Just when you thought you had this whole 'Google+ Page' and 'Google+ Local Listing' figured out Google goes ahead and makes some pretty significant changes to it's local listing management system.  In this case, for the better!  Google recently has redesigned it's entire business marketing dashboard dubbed Google My Business.
So, What is Google My Business?
Initailly, business owners struggled to understand how to manage their local business listings across various Google properties, like Google+ Local, Google+ Pages, and so on. Many SEOs and local business owners were confused by how to manage all of their local listings and, quite frankly, frustrated.  Google listened to that confusion.
Enter Google My Business, a new, integrated approach that makes it easier than ever to get your business information updated across Google Search, Google Maps, and Google+. With Google My Business, small business owners can have their local business information appear across various Google properties, and can manage everything from a single, easy-to-use dashboard rather than bounce from one dashboard to another.
Why Do I Need Google My Business?
Is the fact that Google has over 100+ billion (yes, billion) enough of a reason? It probably should be, but here are some additional reasons (or rather, a more detailed explanation about where those users are coming from.)
Google Maps is one of the most used applications for finding locations on a map. It's built into every Android smartphone, and it is much more reliable and accurate than Apple's Maps application is on iOS. For these reasons alone, most people who want some sort of navigation or map program on their smartphone turn to Google Maps. If you are looking for a business, you want that business to show up on Google Maps so it is easy to find.
With Google My Business, you are ensured that your local small business shows up on the map when people are looking for a particular business. Google My Business also allows your business to show up with higher priority in searches and on Google+.
The biggest reason why you need Google My Business is that it will help improve your search engine optimization. Google My Business puts your correct business information on Google Search, Google Maps, and Google+, so you will find yourself ranking higher in the Google Local results than you would without Google My Business.
You'll also give yourself a competitive advantage by setting up Google My Business, because you will be one of the first runners in your local area. Many businesses have not yet taken advantage of Google My Business yet, so you can get ahead of the game by establishing your presence early on, before your competitors think to do it.
Finally, setting up on Google My Business will help you strike gold in mobile searches. More and more searches for businesses happen on mobile devices, so having your business show up on Google Maps makes it much more likely that someone with their smartphone finds you when they are looking for nearby widget manufacturers, or whatever your business is.
How Do I Set It Up?
To start setting it up, just go to google.com/business, and click the "Get on Google" button. Now understand, if you already have a Google+ page or a Google Places page, those will automatically migrate over to Google My Business (Use this tutorial here). What we are talking about here is a brand new business that has never been on Google+ or Google Places.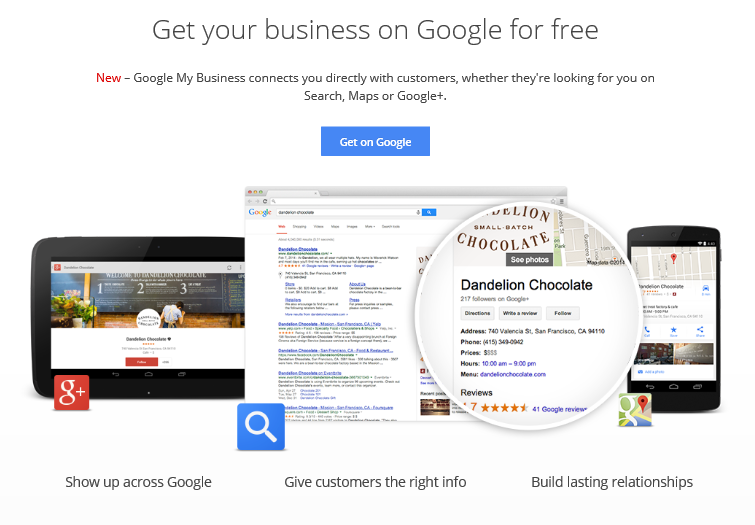 When you click the "Get on Google" button, you will start the process of setting up your business page on Google. You will follow through a series of dialogs, which ask questions about your business. If you are a small business owner who works from home but delivers to your client, pay close attention to the button that says "I deliver products or services to my customers at their locations." This button will help you set up a "service area," ensuring that customers who might need your services or products in your area can find you.
As you get to the end of the process, Google will ask to send a postcard to you with a verification code. This is what solidifies your presence at your address, so make sure you look out for that postcard and enter the verification code when you receive it.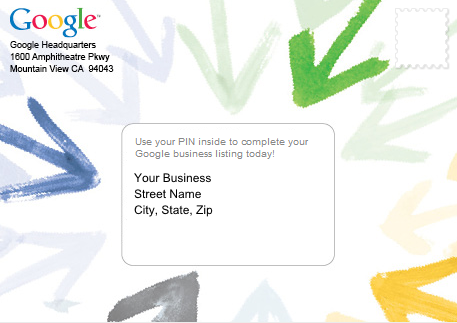 From there, and even while you wait for your verification postcard to arrive, you can customize your Google My Business pages. You can include a profile photo, a logo, and even specify what your business hours are. If you have a web page, you can give a link to it, and even provide your email address so potential customers can email you. You can also list your business phone numbers.  You can even add a 'Virtual Tour' of your business by adding Google Business View so searchers can take a 3D walk through your business – very cool!
So I've Set It Up, What Can It Do For My Business?
Once it is set up, your Google My Business page will help drive web search traffic to your business's listing. When someone searches for a specific type of business in your local area, you will be one of the first to pop up, simply because you have provided Google all of the information about your business and verified that you exist at the location you say you do business from.
Searching for 'Pizza Boston MA'? Your users would see your business listing (in this case, we're looking at Regina Pizzeria) in the Search Results and Google's Carousel.  It should be noted that both Google Maps Listings and Google's Carousel are not always shown.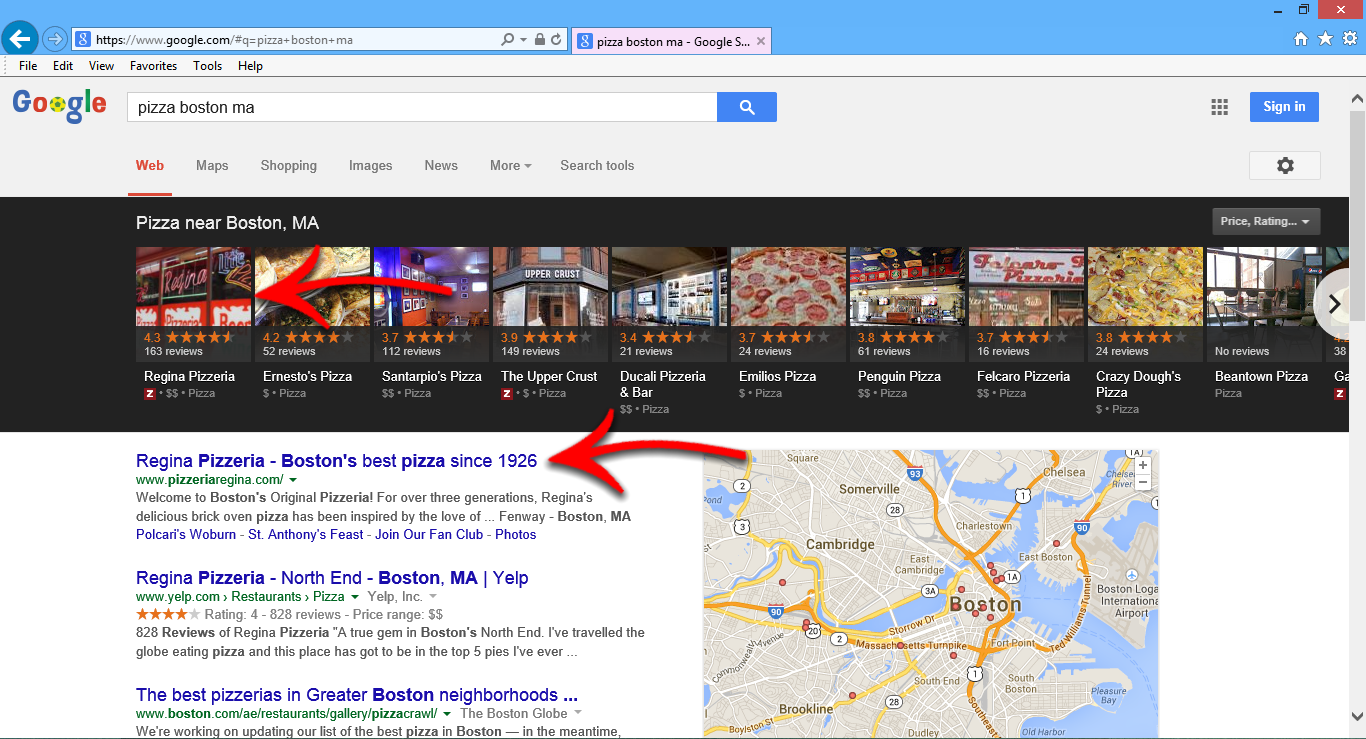 Searching for the same thing in Google Maps? Here is what they would see: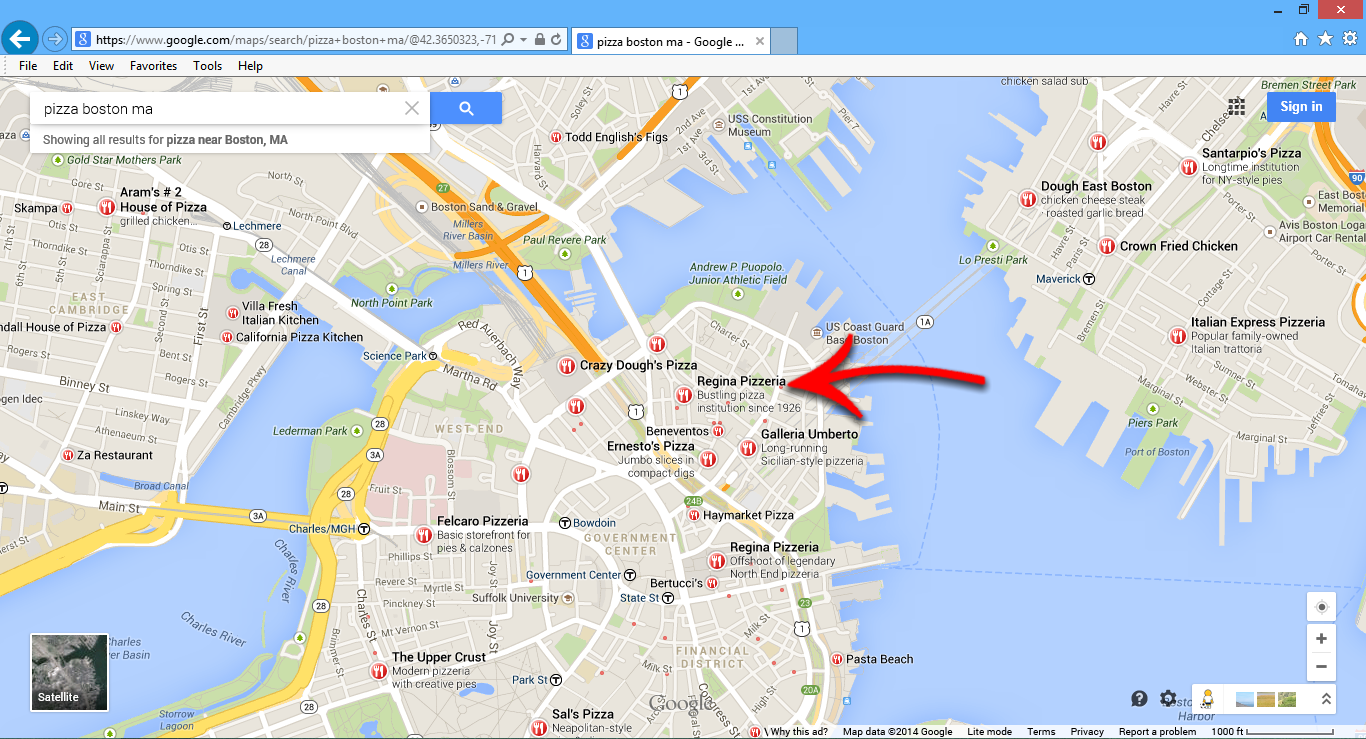 Some of the information you can update and manage includes:
Business Name
Business Address
Business Photos
Manage Reviews
Add a Virtual tour
Share Updates
Business Info.
Analyze Traffic Data
Phone/Contact Info.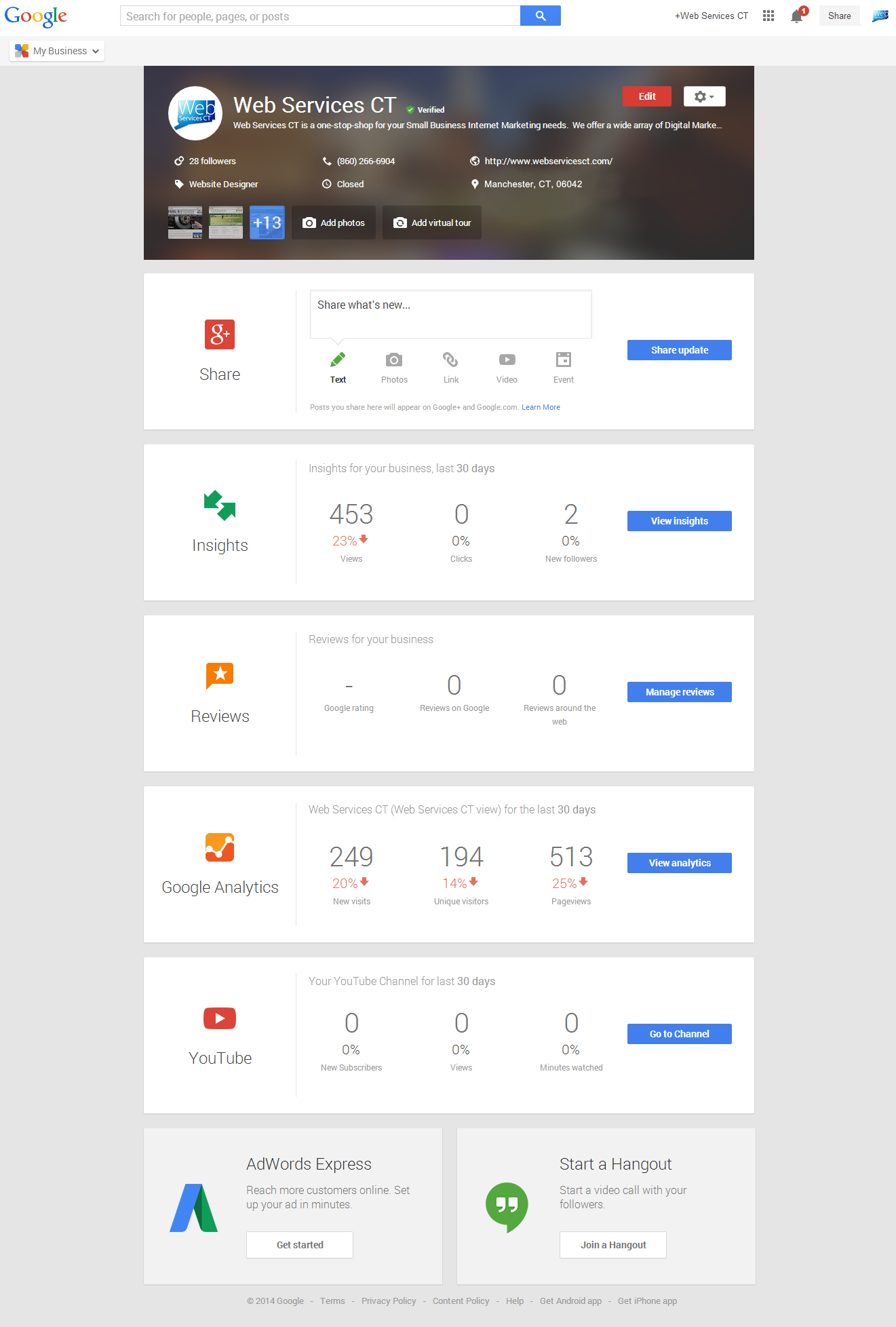 Google My Business is a FREE tool that will help improve your business's visibility on the Web. For a few moments of your time you could generate hundreds or thousands (or more!) of customers. So, what are you waiting for?! Need help?
Contact us
today!
Looking for more of an explanation? Refer to this handy guide here:


Click image to open interactive version (via Simply Business).